A SPACE OF CHOICE
The 3rd extension of the Spirent office within the same building in under 4 years the newly formed engineering team was to function out of this new 15,000 sft office space. With an initial plan to hold 100 seats and a future planning to hold an additonal 30 seats, placing the majority of the private offices on the floorplate's interior walls the planning ensured removable walls and partitions for more open workspace when the need arose.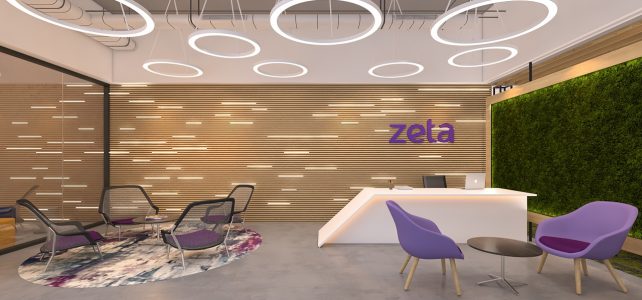 SIMPLICITY IN AN AGILE SPACE
The design philosophy for ZETA's new office was to attempt a creative environment with "blank canvas" in terms of color and finishes. A variety of settings provides a versatile environment that addresses ZETA's needs of its young work force. The office features a mix of formal and informal workspaces, allowing for collaborative and individual thinking. 
PANDEMIC RESPONSE BUILDING

As everyone settles into the "new normal" coping with the possibility of a viral resurgence, it is still emerging which parts of the "old normal " will remain and what will emerge as the new which will be a way forward from here. An online survey shows an increased number of people prefer coming back to work. Working from home has been a challenge with concerns over bandwidth & connectivity issues, feeling of isolation, a lack of dedicated workspace amongst others.
DIGITAL REALITY

What is conceptualized on the design board needs a 3 dimensional transformation for an expansive and clearer understanding. There is a mix of technology available to elevate the designed space by creating a virtual environment allowing exploration of innovative ideas, more options and share those options in a manner that heightens the ability to connect with the space.
ARCHITECT LED DESIGN BUILD
Design-build is a fast-growing project delivery method, generally led by contractors. The same methodology led by architects is conceptually appropriate for projects where design is paramount. Architects have an opportunity to provide more complete and efficient services to their clients by "jumping in" and taking leadership in construction.
Zaxis © 2020 | All Rights Reserved